Skinny Water Culture Paddle Craft Tournament
This tournament is a part of the Shark Bite Challenge & Paddlefest now celebrating its 13th year with record breaking numbers each year exceeding the previous!
Anyone and everyone is welcome to come out and try to take the title from last years winner Lachlan Cameron.
$50.00 entry fee per angler.
Registration fee is $50.00 per angler.
Entry Fee includes the Angler Party, Angler Bag, Event Shirt, Raffle tickets, entry in the Casting Challenge. Lunch & Drink Tickets for the Dunedin Brewery will be provided as well at the Award Ceremony. Breakfast will be provided for all anglers at check-in courtesy of Angler 360.
Tournament Details:
6:00 am mandatory check in on the Dunedin Causeway for tokens on April 8, 2017 at Angler360 with Coffee & Donuts provided.
3:00 pm lines out with a 3:30 pm mandatory return check in at Dunedin Brewery. Any Angler not back will be disqualified.
Photo documenting, with ruler placement, and score sheet tracking.
Point system provided below. THIS IS A CATCH & RELEASE TOURNAMENT.
Winner will be the angler catching four species, each of at least minimum tournament size: Trout, Redfish, Snook, & Tarpon.
If more than one angler catches all 4 species, the following species point will apply (highest points total is the winner)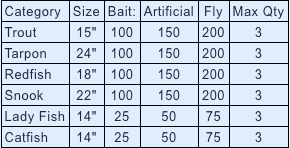 If all 4 of the qualifying species are not caught, then 3 species with the above point system will apply.
In the event of any ties on points, earliest catch time of last eligible fish will determine winner.
Awards will go to:
Overall Grand Champion Angler – Cayo SUP $1600.00 Value
Highest point in each division Bait, Artificial, & Fly. (Excluding Overall Grand Champion Angler and their selected Division) – $500.00 (Awarded to 2 individuals)
Largest Tarpon – $100.00
Largest Snook – $100.00
Largest Redfish – $100.00
Largest Trout – $100.00
Largest Lady Fish – $100.00
Largest Catfish – $100.00
You must be in a paddle vessle SUP, Kayak, Canoe, Gheenoe, Paddle Board, or Paddle Boat. No combustion or electric or motor of any kind will be permitted. If you have any questions on if your non-motorized vessel will qualify please contact us directly we'll be happy to answer any questions.
Huge thank you to last years sponsors! Cayo SUP & Boatworks, Orvis, Seadek, Globe, Wang Anchor, SFR, Bonefish Hippies, RCI Optics, Go Puck, Flats HQ, Bandit Fly Company, Mo Henry's Glass Cleaner, Dubb Tenn, Ryan Accursio, Angler 360, Bar Fly, Papa's Pilar, Kelly's Chick-a-boom Room, Dunedin Brewery, Compound Board Shop, Ohana Creations, SUP Trax, Rooker Outdoors, Seamule, Sunsect, Ashley Weber Art, Florida Sportsman, & Riviera Paddleboards. Without you all this would not be possible we appreciate your generosity and continued support!
For 2017 Sponsorship details please contact jenn@skinnywaterculture.com.
Look forward to seeing you all there!
~Jenn
Skinny Water Culture Family
jenn@skinnywaterculture.com